Essential Questions to ask at a Wedding Open Day

If you have answered "yes" to the big question of "Will you marry me?" recently, you'll probably be starting to look for the perfect venue for your very special day.
As one of the most popular wedding venues in Lichfield, at The George we have a wealth of experience in helping couples make their dreams come true, we have put together this list of essential questions that you should ask when visiting a potential wedding venue to ensure that you choose the right one for you.
How many guests can you accommodate and do you require a minimum number of guests?
You need to have a very rough idea of how many guests you will be inviting and check that your venue can cater for them before asking anything else! It's also worth if there is a minimum number required by the venue.

Are you licensed for civil ceremonies?
You may have always dreamed of a church wedding, but a civil wedding means that the ceremony and reception is all under one roof so it's definitely worth considering.

Do you offer discounts?
If you can't wait to tie the knot, some venues may be able to offer late availability dates at a discount. The same thing applies to weekdays…..if you don't have a specific date in mind it's worth considering all options.

What time does the Reception have to end?
It's important to know what time the entertainment has to end and what time the bar closes so you can pace yourselves!

What are the photo opportunities at the venue?
Ask to see photos of previous weddings which will help you clearly visualise how your big day will be. There may be a photo gallery on the website, so it's worth taking a look. Also check where you can go for photos if the weather is poor and it's not possible to go outside.

Is there disabled access to the venue and the Reception/Ceremony room?
It's vital to ensure that all your guests feel comfortable and can easily get to where they need to be.

Can you cater for special dietary requirements?
An important consideration, and this is one of the questions that will help you gauge just how flexible and helpful your venue will be on all sorts of issues.

Do you have a red carpet, a cake stand and knife?
Tiny details, but not so tiny if you arrive at the venue and find out you should have supplied them!

Do you supply a toastmaster?
If you don't want to go to the expense of hiring a toastmaster, check to see if the venue has someone to do the job!

Do you have preferred suppliers you can recommend?
Using the venue's recommended suppliers is a good idea as they know the venue and what works best.

What and when do I have to pay?
You need to know when the deposit and the other payments are due so you can budget accordingly. It's not nice to think about, but it's also worth checking the venue's cancellation policy.

Are there restrictions regarding how the venue can be decorated?
If you have a vision for the Reception room or you want to decorate the grounds, make sure you mention it early to ensure it is possible to do! It's worth keeping the existing decor of the room in mind when planning your theme to ensure there is no clash and if you're planning a December wedding ask what the decorations will be like. Bear in mind that real candles inside and confetti outside may not be allowed. Also check if the venue supplies vases for the tables, as you may be able to borrow them to fill with your own flowers.

Do you offer preferential stay rates for wedding guests?
It's likely that even those who live locally will want to relax and stay overnight. Normally you can arrange for the venue to hold a certain number of rooms for you for a few weeks at a preferential rate to give your guests a chance to book.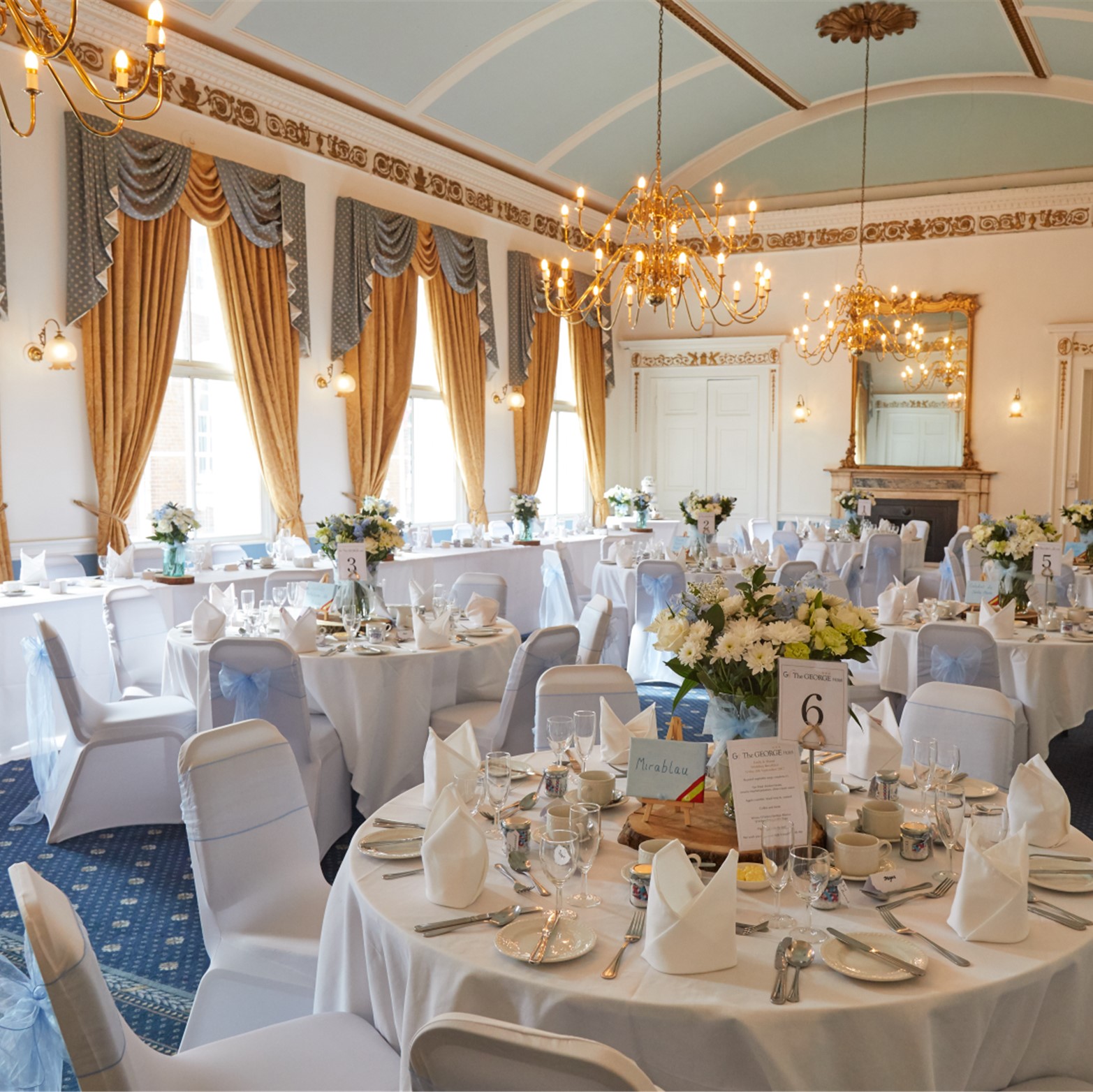 The George Hotel – your perfect wedding venue
To see exactly how lovely your wedding day could be at The George visit
www.thegeorgelichfield.co.uk
---